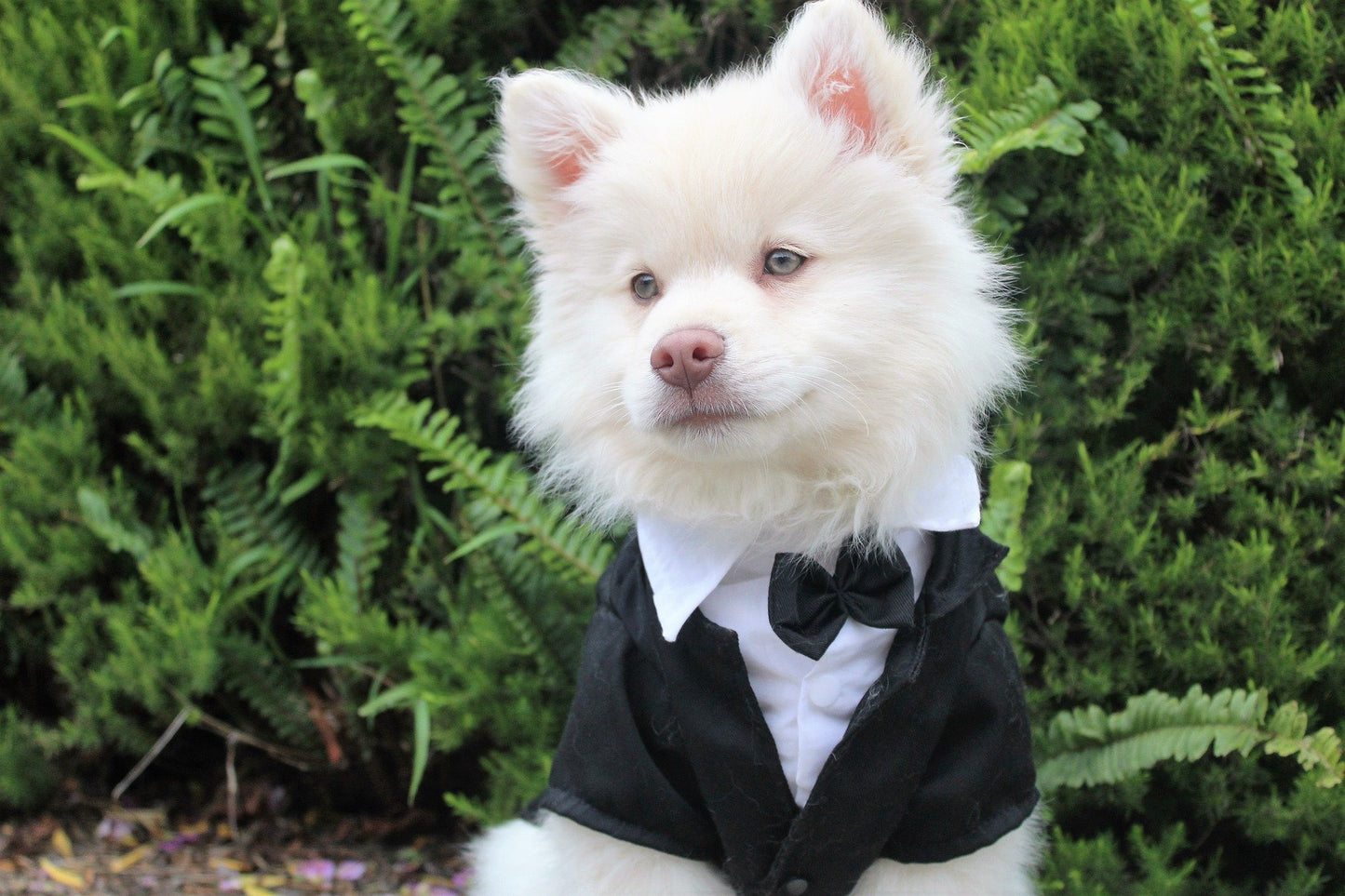 A day as special as a wedding is shared with the couple's closest friends and family - and for many that includes their fur baby. In 2016, pets were included in 8% of weddings, and Fido's prominence (and participation) is only expected to grow. Many couples are looking for unique and touching ways to incorporate their dogs as they say "I Do".
There are plenty of ways to involve your dog in your celebration. In a formal role or simply as an honoured guest, pets can make the event much more memorable, but they also require special attention. Here are some tips to pupare you for the big day.
Wedding Petiquette
Give guests a heads up with the invitation, advising them of your dog's participation. If anyone is afraid of dogs or has severe allergies, they can let you know and accommodations can be made in advance.
The Right Stuff
Weddings can be stressful and overwhelming for a dog that doesn't adapt well to new situations or is uncomfortable around strangers. Does your furry friend have what it takes? It's important to seriously assess the temperament of your dog to determine if he'll feel secure and happy at a wedding.
Dogzilla vs. Bridezilla
It's equally essential to consider your personality. Weddings can be high-pressure affairs and you don't want to add extra stress on yourself especially if you want every detail to be executed perfectly. But if you have a sense of humour and are open to the possibility of some canine hijinx (or even upstaging), go for it!
Something Borrowed, Something Chewed
Keeping your dog calm, cool, and cared for is a priority if he'll be at your wedding. Don't leave dog duties to a parent, bridesmaid, or other key wedding party member. Your pooch needs someone dedicated to keeping him calm, engaged, focused, and exercised. And don't forget plenty of treats for rewards and bribes. We suggest having some mini trainers in your pocket since they are easy to carry around.
Dress for Success
While it might be tempting to cover your dog in velvet or sequins, it might not be the best idea for a warm summer wedding or if he's uncomfortable wearing clothes. Make sure your furry friend is comfortable in his wedding day garb by trying it on a few times before the big day. And if he balks at a full get-up, go for a simple collar instead (and don't make him wear canine couture for longer than is necessary).
Hound Hazards
If your pup of honour is good to go for the entire celebration, be sure to check with the wedding site about pesticides or toxic plants on the grounds (assuming you confirmed it's a dog-friendly venue - that's the first thing you need to do!). Also keep dogs supervised during the reception so guests won't feed them, because certain wedding staples - such as chocolate, alcohol, and meat with bones - can be dangerous for dogs.
Prep Your Pooch
Dogs like to sniff and explore new spaces, so if you get that out of the way with a few visits before the big day, he'll be less likely to do it at the ceremony. And if he'll be participating in the ceremony, make sure he's there for the rehearsal to practice his part. If he'll be walking up the aisle, it's best if someone familiar walks with him and then sits or stands by him during the ceremony. Have those mini trainers handy!
Paparazzi Pupper
If your venue doesn't allow pets, you can always incorporate your dog in outdoor photos after the ceremony. Just be sure someone has exercised him to avoid accidents and calm him down. Also, take pictures with your dog first in case a canine meltdown sends him home early. Keeping them focused on the camera can be tough, but with a juicy sweet potato chew behind it, they won't be able to look away!
Have a Backup Plan
All of your extensive preparation may go out the window the day of your nuptials. Embrace the quirks that canines can bring - they may end up being one of the most memorable parts of your day. Most dog owners live by the mantra "Expect the unexpected" and these words can also apply to your wedding...and marriage.
If your venue isn't dog-friendly or you've determined that your mutt is better off at home, there are still plenty of ways dog lovers can honour their favourite furballs:
Include your dog in Save the Date announcements and thank you cards
Have him represented with a reading at the ceremony
Name a cocktail after him or incorporate his photo into décor elements, like drink stirrers
Take a "Just Married" walk with your dog to enjoy some private time between the ceremony and reception (you'll also get more cute photos)
Including your dog in your wedding requires more work, consideration, and flexibility. But as many dog owners can attest, the extra effort is well worth it.